How to Safely and Legally Modify Your Forklift
How to Safely and Legally Modify Your Forklift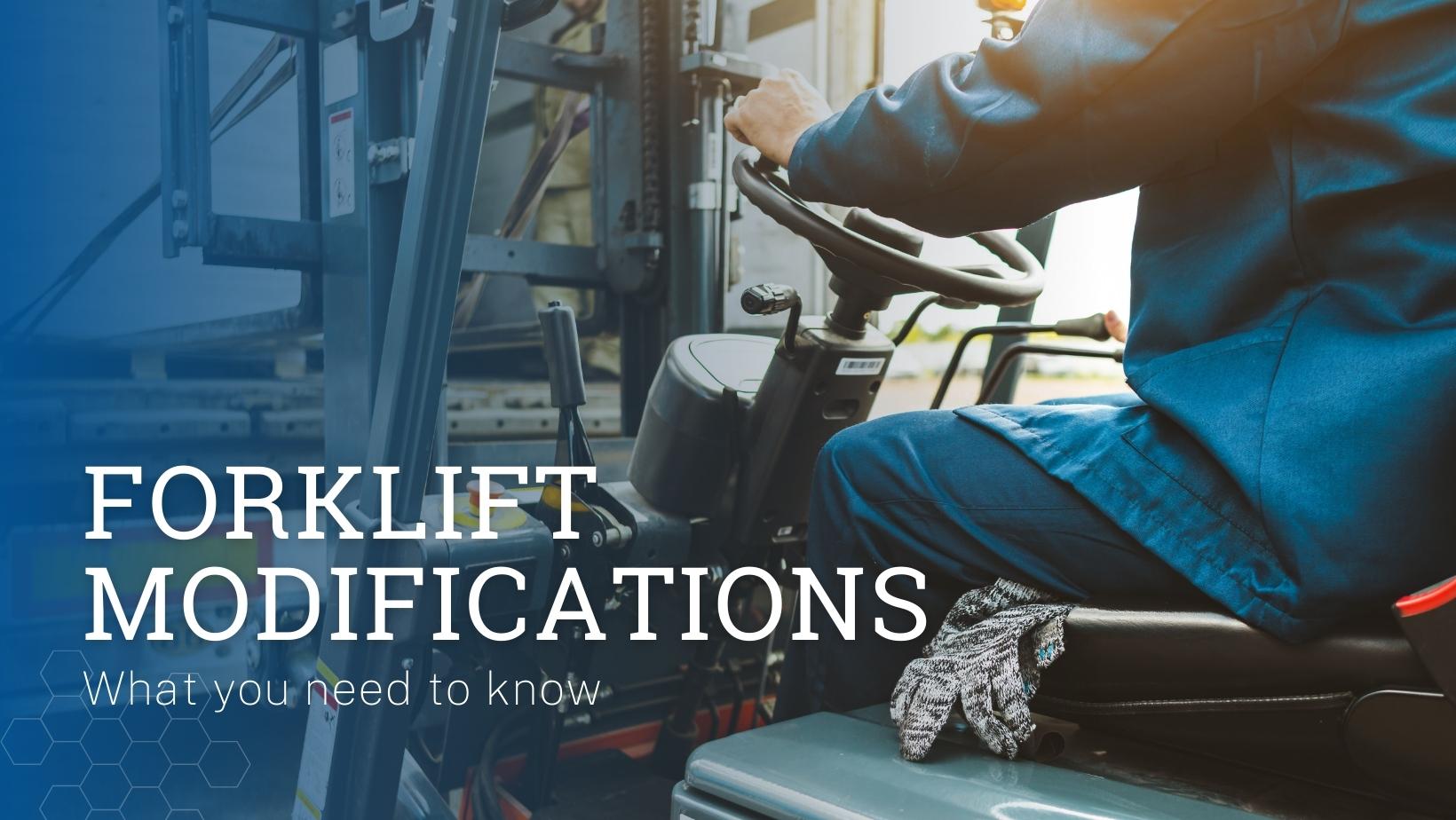 The Right Forklift for Your Jobs
If you drive a forklift, you know that anything you can do to move more weight in less time makes your workday much easier.  
Because of this, many forklift drivers desire to make modifications to their forklifts.  


Simple as modifying a forklift may sound, there are many myths and rumors swirling around what changes you are allowed to make to your forklift.  


In this post, we will go over what modifications you can and cannot make to your forklift, as well as some laws revolving around forklift modification.  


As you may have guessed, you can't make just any modification to your forklift. There are several laws revolving around forklift modifications, and they are set in place to prevent workplace accidents and injuries.  
The main law you will need to know is Section 7, Regulation 851 under OSHA.  


In essence, Regulation 851 says that for any forklift modification, you need to get written approval from the manufacturer. Once you get written permission, you must then update your forklift's plates, labels, tags, and operation and maintenance manuals. In addition, you need to retrain any drivers with a focus on the new modifications.  
Any modifications must be made or supervised by an experienced, accredited mechanic or engineer.  


If you are unable to get approval from the manufacturer, OSHA accepts written approval from a Qualified Registered Professional Engineer.  
Finally, you will want to ensure that you do not void your Underwriter's Laboratory (UL) rating certification. This verifies your forklift complies with UL standards. If you make any changes to your forklift's electrical, exhaust, or fuel systems, you will void your forklift's UL certification.  
Make sure you are using original equipment manager (OEM) parts to keep your UL certification, not third-party forklift parts.  


Modifications You Can Make
There are many modifications you can safely make to your forklift that will improve your work experience.  
Here are a few of the most common: 


Addition of a side-shifter 



Use of a specialized clamp to handle new inventory 



Addition of a 3-stage mast 


Drilling into the overhead guard or hood 



Installation of a new tire-type 



Installation of longer or different types of forks 



Swapping counterweights 


Again, make sure you have written approval from the manufacturer before you make any changes. This is especially relevant if you make any modifications that affect the driver's visibility or involve the counterweights in any way.  


Safety should always be the priority. Never sacrifice the well-being of the driver for speed or hauling capacity.  


Modifications You Cannot Make
It can be hard to say exactly where the line is drawn for what you can and cannot change in terms of modifications, as each change is judged on a case-by-case basis.  


The best rule is that it can be dangerous and inadvisable to make any modifications that alter capacity, intended use, or balance.  


You should avoid adding any attachments as they will alter your forklift's weight distribution.  
Additionally, avoid any modifications that interfere with the lifting mechanism of the forklift. It is never a good idea to add additional lifting points to your forklift.  


One of the most dangerous myths involving forklift modification is that you can increase a forklift's capacity by adding more weight to the counterbalance. This is completely false. All this will do is alter your forklift's center of gravity and increase the risk of a tip over.  


Finally, you should be extremely cautious when considering modifying your forks. Forks must always be parallel to one another and inspected regularly for signs of wear and bending. Cheap materials can prove to be hazardous.  
Make Your Forklift Work for You
 
The best forklift is the one that is safe and works for you. There's no use in making modifications if you will not use them or they will impair your driver.  


A forklift that is improperly modified can pose potentially fatal risks to the driver.  


Make sure you always get written approval before you make any modifications to your forklift.  


That said, a well-thought-out modification can make your workday much easier. Modify smartly and you will move more weight in less time.  


If you are looking for high-quality Princeton Forklifts or top-of-the-line modifications, reach out to Beamers Piggyback. We are the only accredited Princeton Forklift dealer in the area, and we will make sure any modifications you make are safe and meet your needs.