How to Know if You Should Buy Your Forklift New or Used
How to Know if You Should Buy Your Forklift New or Used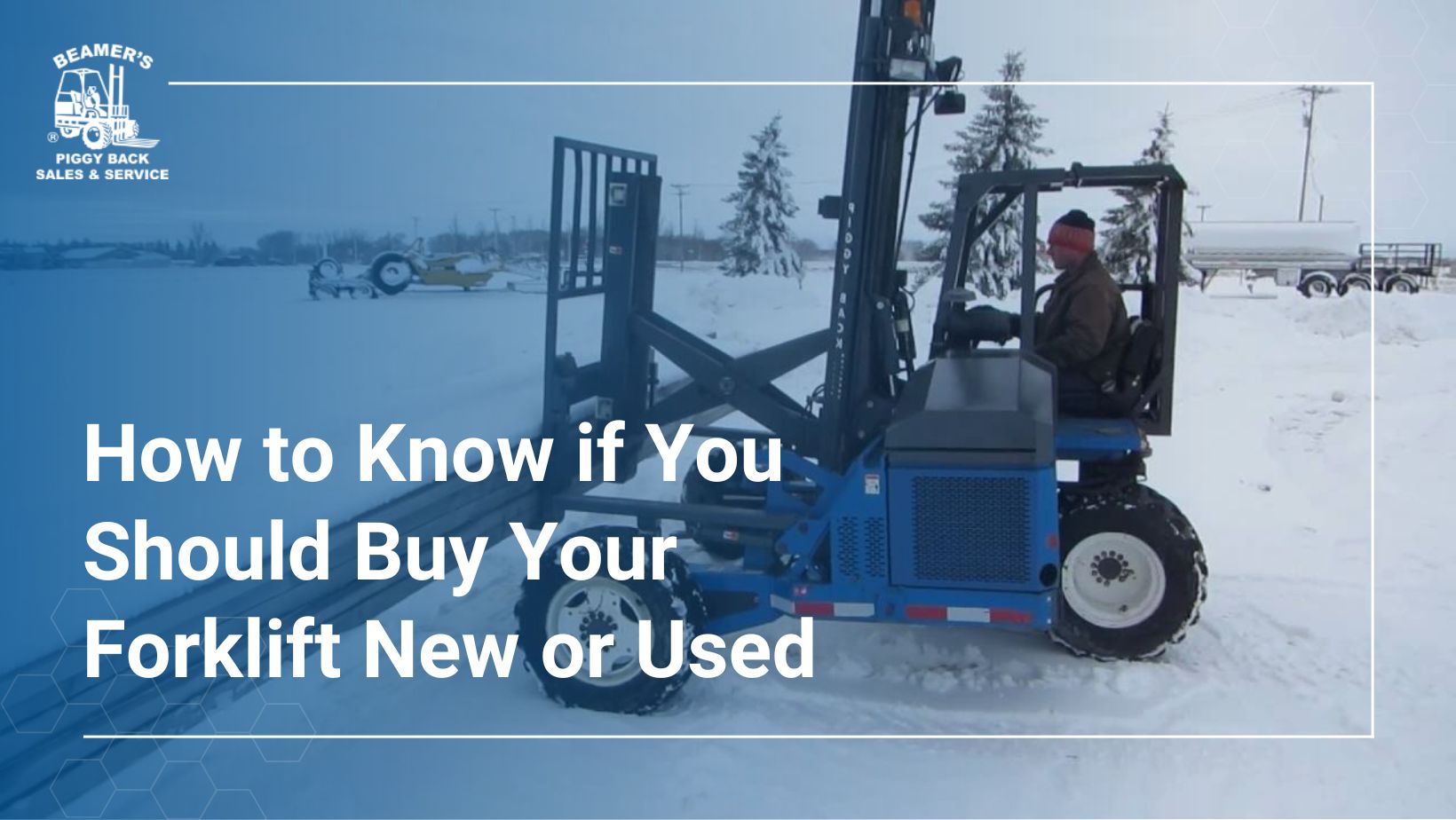 Your business needs a new forklift. But you want to invest in a model that will last you a long while, can be counted on, and, most importantly, is safe.  
When shopping for forklifts, you will encounter many models, both new and used.  
It can be hard to decide whether your business needs a new model, or if a cheaper used model will better fit your needs.  
In this post, Beamers Piggyback has put together a few quick tips to help you decide whether you should purchase a used forklift, or if your business should invest in a new one.  
Not everyone's needs are the same, so read carefully to make sure you make the best investment for your business.  
Deciding Between a New and Used Forklift 
Before you buy a forklift, take some time to consider whether a new or used model is right for you.  
This guide will help you narrow down your options by giving you some tips on which option may be best for you.  
You may have some questions like, when is a reconditioned forklift worth it? And when are new forklifts best?
Here's how you decide.  
Here's a good rule of thumb: it is best to buy a used forklift if it will be used less than four hours per day in a single-shift operation. This rule only applies if the forklift is in good shape.  
It is true that a used forklift will come with a cheaper price tag than a new forklift of the same model, but if you buy the wrong used forklift, it can cost you more than it saves.  
Only ever buy a used model from a reliable seller and ask careful questions before your purchase. You should ask for a maintenance report and an accident history to be sure the forklift doesn't have any underlying issues.  
The best advice? Buy your forklift from a reputable dealer. Independent sellers don't care about doing business with you long-term and only want to make a single sale. A dealer will be more focused on ensuring you are satisfied with your purchase and will put a used model through some level of repair and restoration. 
The Bottom Line 
If your operation runs multiple shifts and has a high throughput, do it yourself and buy a new model with a long lifespan.  
New forklifts are designed to handle heavy use and provide high levels of productivity with little downtime. You will also get a 12-36 month warranty.  
If you plan to add accessories, have specific mast height requirements, want a matching fleet, or have a better tax write-off, you are also better off going for a new forklift.  
The Best Princeton PiggyBack® Forklifts in Cincinnati from Beamers Piggyback 
For many businesses, the choice between a new and a used forklift might not be an easy one.  
However, with the help of Beamers Piggyback, we will get you only the best option for your business. 
We are Cincinnati's only Princeton forklift dealer and we recondition forklifts LIKE NEW! Our reconditioned units are built from the ground up, tested, inspected, sandblasted, painted, and then assembled with all new wear components including hoses. You won't come close to finding units that stand the test of time like ours. 
Whether you are looking for new forklifts, used forklifts, forklift modifications, or even reconditioned forklift batteries, Beamers Piggyback is the place to be. 
If you are looking for the perfect forklift for your business, reach out to Beamers Piggyback today!