Your Guide to Buying Your First Flatbed Truck
Your Guide to Buying Your First Flatbed Truck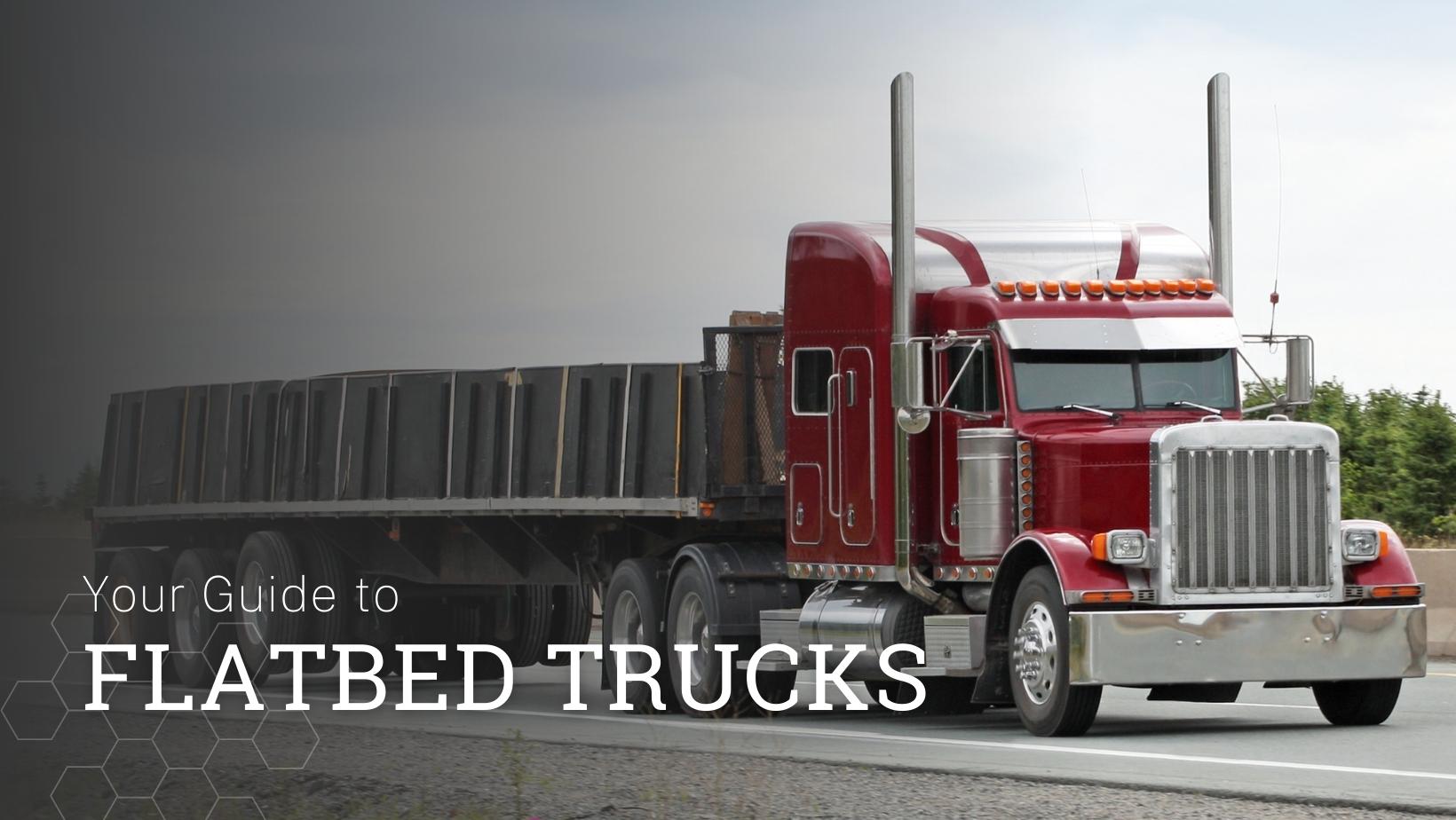 As you know, when there is heavy work to be done, you need the right tool for the job.


When you are hauling heavy loads, you need a truck that's going to be able to handle your hauling needs. A sturdy steel flatbed truck is perfect for heavy loads under 33,000 pounds.


But, before you buy, there are a few things you need to check on to make sure you get the most out of every dollar you spend. Below is a first-time buyer's guide that you can use to consider all your options when shopping for a new flatbed truck.


Commercial trucks are split into eight categories based on gross vehicle weight rating. Here are the categories and their hauling capacity:


Class 1: Light duty. 0-6000lbs.

Class 2: Light duty. 6,001-10,000 lbs.

Class 3: Light duty. 10,001-14,000 lbs.

Class 4: Medium duty. 14,001-16,000 lbs.

Class 5: Medium duty. 16,001-19,500 lbs.

Class 6: Medium duty. 19,501-26,000 lbs.

Class 7: Heavy duty. 26,001-33,000

Class 8: Heavy duty. 33,001 lbs. or higher

You must make sure you have a realistic estimation of your hauling needs and shop accordingly. Flatbed trucks typically fall into Class 6 or Class 7. But it's up to you to make sure the truck you are buying has the correct hauling capacity before you purchase it.


Flatbeds are best for when you have a load that doesn't require a big rig and trailer for less than load freight. The best use of a flatbed is for loads that are in the upper range of medium duty, but not quite heavy duty.


Flatbed trucks have a flat, open bed without a permanent side or roof. Because of this, the ease of loading and unloading a flatbed is unparalleled as compared to other kinds of trucks.


What to Check for When Shopping Around
Whether you want to buy a used or new model, there are several different issues you need to check for before you drive your truck off the lot.


Check for rust or frame damage. More common in used trucks, a rusting or damaged frame can spell disaster for the long-term outlook of your truck. While this issue is common in used trucks, new trucks can have frame issues too. If a truck was shipped poorly or has sat unprotected in a yard for an extended period, the frame can become rusted or warped, even if it's never been driven. Check for this issue, or you will regret it. Get a custom fit to make a used model feel brand new.
Make sure the mileage is accurate. Mileage affects price, simple as that. Private sellers or shady salesmen have been known to alter the odometer to fatten the price tag. Test drive the truck before you buy it and have it checked out by a professional mechanic to make sure the wear of the truck reflects its displayed mileage.
Know the maintenance records. If the price tag is too good to be true, it probably is. Run a Carfax and have a trusted source check the vehicle. Previous accidents or frequent repairs make for a truck that is constantly out of service and a wasted investment.
Make sure the tires are right. Tires are the foundation of a healthy truck. If the tires of worn and deflating, make sure the seller buys a fresh set or the cost of new tires is deducted from the price tag. Before the sale is complete, make sure the tires have been balanced and rotated. New tires are worth their weight in gold so make sure yours are in working order. You can thank us later.
Check the engine. This is the most important step. If the engine is in poor condition, your truck will be lucky to make it off the lot. When you have your mechanic check the vehicle, if they aren't spending most of their time looking at the engine, you need a new mechanic. When in doubt go for the vehicle with the best engine. Make sure the spark plugs have been kept in good condition and changed if they encounter issues. The same goes for the filters. The engine is the heart of your truck. The longer the engine goes the longer the truck goes.
Look at the transmission. This is the second most important step. When you check out the transmission, you want to make sure there is no burning smell and all the parts function properly. Transmission issues are incredibly expensive to repair, so make sure it's in working order, or you're just buying a hunk of scrap metal.

Different Parts to Consider
There are several different components to flatbed trucks that affect the cost and performance of your vehicle. Many flatbed owners opt to go for customizations depending on the type of work they need their truck to do.


Here are some components of a buyer's guide flatbeds:


Chassis. Make sure the chassis is sturdy enough for your hauling needs. A C-panel design creates a flat mounting surface and is most common for flatbeds.

Engine. Diesel engines give your truck more torque but can add $13,000 or more to your price tag.

Interior. A cushy interior can make your driving experience more enjoyable, but the extra features inside the truck increase the price tag. The interior upgrades are worth it for some, but a waste of cash for others.

There are many different types of custom upgrades you can add to your truck, but safety should always be considered chiefly. If you are working on a tight budget, prioritize the safety of the driver and vehicle over comfort and technology.


Proper mirrors, trailer reverse guidance, blind-spot monitoring, emergency braking, and adaptive cruise control are all great features to give your truck a safety boost.


Flatbed bodies are installed on a hot-rolled steel girder understructure. Features that are tailored to your use include reinforced stake pockets, steel bulkhead, powder coat protection, optional liftgate, and optional hoist.


There are also options for platform flooring materials such as smooth steel bedding, steel diamond plates, and treated reinforced wood.


A Truck that Works for You
When shopping for a flatbed truck, the most important thing is that it can handle your needs, and serves as a tool to enhance your business. If you haul heavy loads professionally, then it is worth it to pay for a more capable truck.


Make sure you have considered all your options and inspected the truck thoroughly before you make a purchase. There are dozens of different modifications you can make to your truck to make it work better for you.
If you're looking to make flatbed modifications, Beamers Piggy Back is the only place to go. We're the only fabricator in the area that can handle custom steel flatbed refurbishments. We handle orders large or small, all at a price that works for you. Reach out today!


Satisfied with the Beamers Piggyback difference? Leave us a quick review on Google here!


Don't miss out on the best tips! Follow Beamers Piggyback on Facebook and Instagram for more free semi-truck and forklift maintenance tips!