What Do I Need to Know When Looking to Buy a Reconditioned Forklift?
What Do I Need to Know When Looking to Buy a Reconditioned Forklift?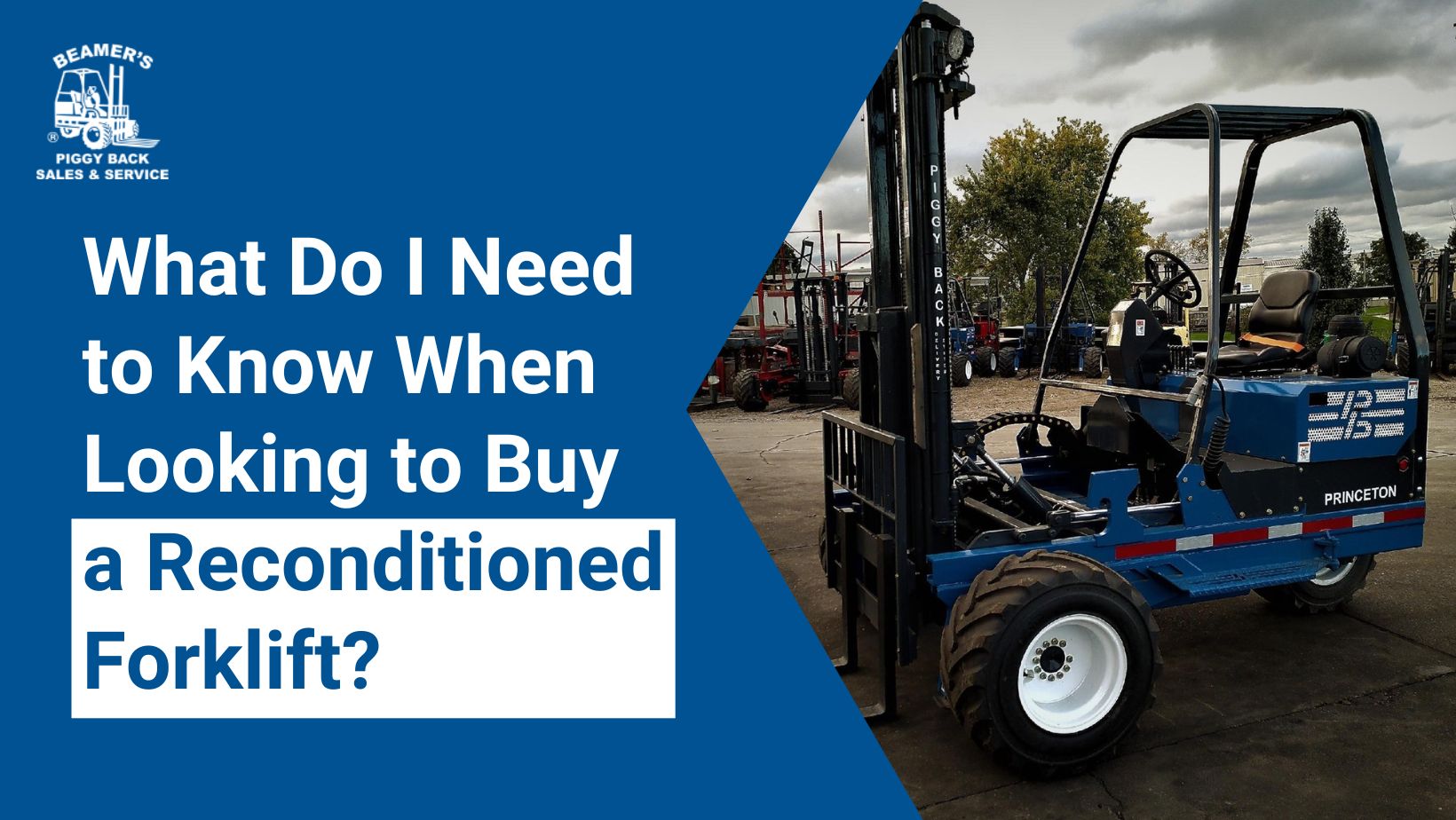 Forklifts are an essential part of your daily routine. When looking to buy a forklift, you can either opt for a new model or aim for a reconditioned machine.
You may be wondering if a reconditioned forklift is worth it, or if prior damage can impact the life of your forklift.
It is always important to check for cracks, structural damage, or bending in the forklift's frame. These can all be signs of faulty machines that you should avoid.
Some refurbished forklifts still need massive repairs, and others may be ready to work immediately.
Should I buy my forklift new or used? Here's how you decide.
So, what do you need to know when it comes to buying a reconditioned forklift?
Keep reading and we will tell you the warning signs for refurbished forklifts that you should avoid, and how to spot a bargain.
How to Tell if a Reconditioned Forklift is Right for You
No two businesses are the same, and because of this, not every forklift is right for every business.
If you use forklifts more sparingly, then a reconditioned forklift might be a better fit than a new one for your business.
Make sure you do the following to determine whether a reconditioned forklift is right for you.
Inspect the Condition
First and foremost, it is important to carefully inspect the condition of the forklift before making a purchase.
This includes checking for any visible signs of wear and tear, such as dents, scratches, or rust, as well as looking for any signs of mechanical issues, such as leaks or uneven tire wear. It is also important to test drive the forklift to ensure that it runs smoothly and that all of the controls and functions are working properly.
Nothing is more important than forklift safety! Check out this quick walkthrough!
Weigh the damage against the cost and how often you intend to use the machine. For those who only plan to use the forklift a few hours a week, some signs of wear may be negligible. However, if you are planning to use your forklift for multiple hours a day, think carefully before purchasing a reconditioned forklift.
Decide on an Ideal Age and Model
Another important factor to consider when buying a reconditioned forklift is the age and model of the machine.
While older forklifts may be less expensive, they may also be less reliable and may require more maintenance and repairs over time. Similarly, newer models may be more expensive but may also be more efficient and easier to operate.
Weight and Capacity
When buying a reconditioned forklift, it is also important to consider the weight capacity and lift height that you will need for your specific application. This will ensure that you are getting a machine that is capable of handling the loads that you need to move and that can reach the heights that you need for your specific tasks.
Always check for bends in the fork or the cab's frame. Also, watch out for gaps in the lift gain as a potential red flag.
What is Your Preferred Forklift Power Source?
Additionally, it is important to consider the type of power source that you prefer, whether it is electricity, propane, or diesel.
Each of these power sources has its pros and cons, and it is important to choose the one that best suits your specific needs and budget.
Also, be sure to inspect the power source to ensure that there is no damage. A crack in the fuel line or worn-out components could spell disaster sooner rather than later.
Looking to improve your forklift efficiency? Check out this quick guide!
Do I Trust this Seller?
Finally, it is important to consider the level of support and service that you will receive from the seller. This includes things like warranty and maintenance options, as well as the availability of replacement parts and other resources if you need them.
Reconditioned Forklifts You Can Count on From Beamers Piggyback in Cincinnati
Overall, purchasing a reconditioned forklift can be a great way to save money while still getting a high-quality machine that meets your needs.
By carefully considering the condition, age and model, weight capacity, lift height, power source, and level of support, you can be confident that you are making a wise investment that will serve you well for years to come.
When it comes to finding the best-reconditioned forklifts, Beamers Piggyback is a great option to consider. We specialize in forklift sales and repair and provide the best quality and service.
Beamers Piggyback is the only certified Princeton Forklift dealer in the Cincinnati area and we are here to help you find the best forklift for your business.
Learn more about our forklift reconditioning process here!
Whether you want a new model or a used forklift, Beamers Piggyback will help you find a forklift that meets your needs in Cincinnati, Fairfield, or Dayton.
If you are looking for a forklift to meet your needs, reach out to Beamers Piggyback today!
Happy with the Beamers Piggyback difference? Leave a quick review here!
Don't miss out on more free content! Follow Beamers Piggyback on Facebook and Instagram for more free forklift and truck tips and tricks!