Types of Modifications for Your Truck
Types of Modifications for Your Truck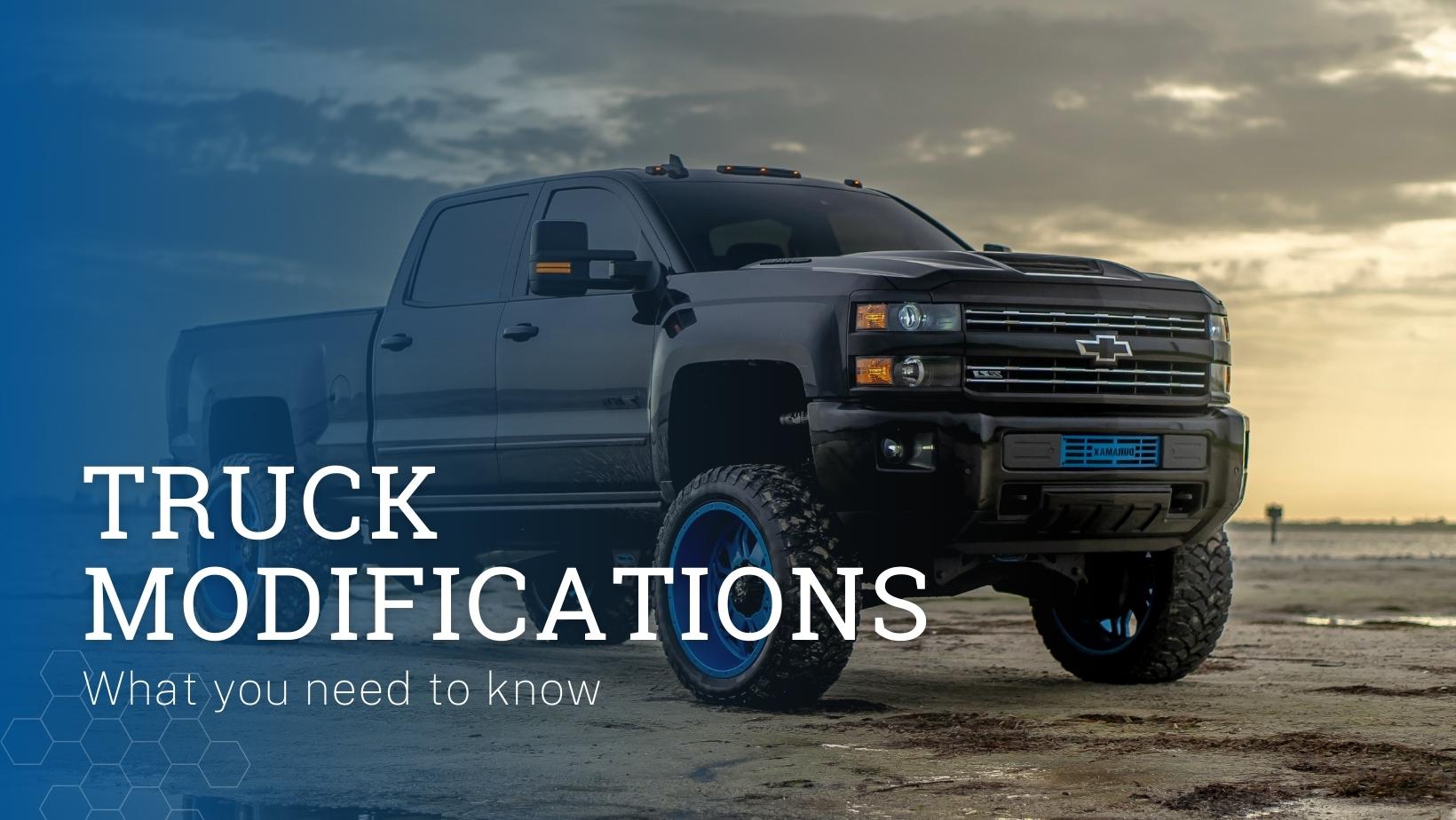 Give Your Truck a Pickup 
Every truck owner trusts their truck as a dependable tool. You can travel, haul, and be the envy of your friends all with an engine and four wheels. However, each truck's responsibilities depend on its owner's needs. That's why so many truck owners decide to modify their trucks to meet their specific needs. 

But how do you know what modifications to make, or even what is right for you? 

This post will go over your options for truck modification as well as the pros and cons of each option.  
Most of these options are intended for standard pickup trucks, however, they transfer over to other types of trucks as well, including flatbed steel trucks.  


The Modifications
Heavy snow, mud, or other natural concoctions can be very damaging to the undercarriage of your truck.

 

Lifting your truck distances its vital components from damaging substances and allows for more tire configuration options.

 
Lifting your truck's suspensions can put extra stress on the driveline components and sap your truck's horsepower.

Be warned:

 a lifted truck will likely have decreased resell value.

 


Factory-installed tires tend to wear out quickly, while all-terrain tires are made for durability.

 

All-terrain tires allow drivers to go off-road and handle severe environmental conditions better.

 


Introducing more cold air into your combustion chamber allows your engine to run more efficiently.

 

More efficiency gives your truck better horsepower and improved fuel efficiency (saving you cash).

 


A step bar goes well with a lift kit to make climbing in and out of your truck much easier.

 
Some step bars even tuck under your truck when the door is closed to provide a sleeker design. 


Trucks that are often relied upon for towing and long-distance travel get worn down over time.

 

A custom exhaust will give your truck more horsepower, fuel efficiency, and extend the vehicle's lifespan by several years.

 


A toolbox fitted into the bed of your truck gives you more specified storage space and protects your tools and other valuables from the weather and keeps them locked away from thieves.

 


A tonneau cover is a vinyl or plastic cover which goes over the top of and around your truck bed.

 

It protects your supplies in the truck bed from weather damage and rust accumulation.

 


An LED bar will illuminate the road and is perfect for driving at night.

 

They can either install on the top of the truck or in the front bumper.

 

LED bars are more efficient lighting systems than regular headlights.

 

Be warned:

 some areas have local or state laws regarding headlight brightness.


It is easy for truck interiors to get messy from dirt, grime, and other spills.

 

Easy-to-clean, water-resistant floor mats can make clean-up simple.

 


A truck bed extender allows you to haul long or oversized loads and is ideal for pickup trucks, especially if they see heavy use.

 

You can add up to three running feet to your truck bed.

 

Be warned:

 make sure you are following all local and state laws and that any loads overhanging your truck's bed are properly flagged.


A trailer brake controller relays signals from a vehicle's brakes to the back of the trailer.

 

A properly functioning controller allows you to stop with more ease, especially if you are carrying heavy or poorly balanced loads.

 

Be warned:

 a trailer brake controller is not an excuse to drive a poorly balanced trailer and loading your cargo with little thought to weight distribution can have disastrous consequences.


A sturdy ramp will allow you to load heavy, wheeled equipment into the bed of your truck without forcing you to lift it.

 

Be warned:

 

make sure the ramp you buy can support the weight of your cargo. Cheap ramps can bend or break if you have too heavy of equipment.

 


The brakes that come with your truck will meet the safety requirements if you buy it new, but for heavy loads brakes can quickly get worn out.

 
To save yourself from constantly replacing your brakes, invest in high-performance brakes.
High-performance brakes also allow for peace of mind as they can handle very heavy loads, even at steep inclines.  


Most truck-owners will not need to install all these modifications, but a few key customizations can drastically improve the performance and life span of your truck.

Those modifications that increase the fuel efficiency and horsepower of your truck's engine are most popular. However, when considering what modifications you want to add, survey your environment, typical load weight, and intensity of use.  

If you are considering making a significant upgrade to your truck, reach out to Beamer's Piggy Back. We handle modifications to flatbed steel trucks and are a licensed Princeton Forklift dealer. If you have a custom trucking need, we can make your vehicle the stuff of your dreams.  

Get your truck right today!