Truck Driving and Cold Weather: Stay Safe with Preventative Maintenance
Truck Driving and Cold Weather: Stay Safe with Preventative Maintenance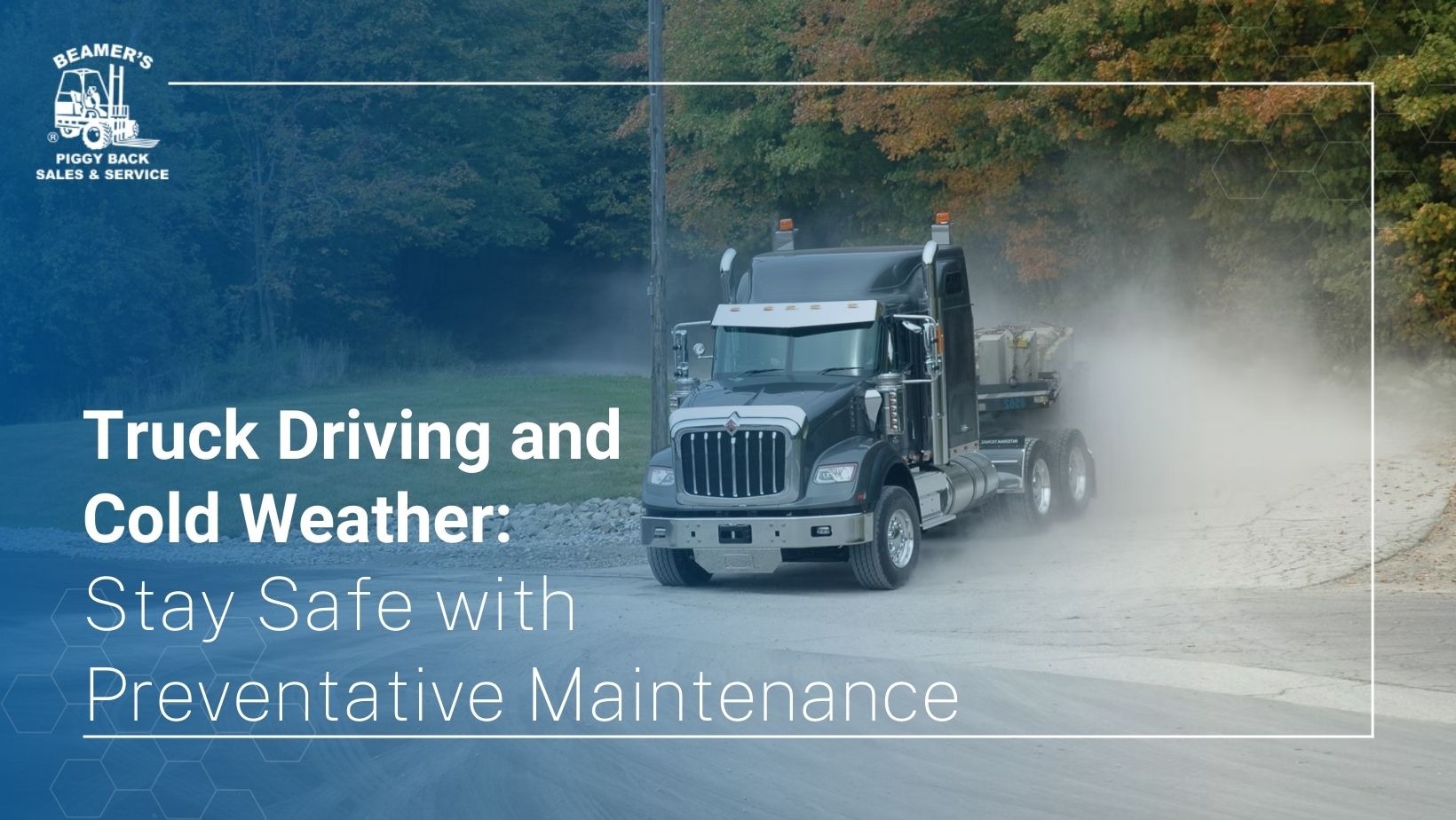 Summer is long gone, and Fall is only getting colder.  
As many of us look forward to holiday cheer and landscapes touched with pillowy white snow, we must remember that cold weather can wreak havoc on our trucks.  
Minor issues from the warmer months can build up and the chilly weather can put extra strain on your engine block.  
To ensure that you are not stuck in a dire situation this winter, preventative maintenance and preparedness are essential.  
For this post, Beamers PB has assembled a list of the top things you need to have prepared for your truck this winter.  
Do These Things This Winter for Your Truck 
The holiday season means more frequent deliveries and more strain on your truck.  
Do the following to help ensure your truck stays healthy all winter long.  
Change Your Wipers 
Your wipers need to be changed at least once every year. The start of winter is the best time to make the change for many.  
A new pair of wipers can help you out big time when you're making a winter delivery and the snow just won't stop. When you find your windshield is clear despite the downpour, you'll be glad you replaced your wipers.  
Use Winterized Fuel 
Winterized fuel may not be cheaper than summer fuel, but when the cold weather comes, it is much more effective.  
Freezing temperatures can create issues like fuel gelling, frozen fuel lines, and plugged-up filters from buildup. Use winterized fuel to prevent these problems.  
Check Your Fluid Levels Now 
Don't wait to check your fluid levels, do it now.  
Engine oil, brake fluid, transmission fluid, coolant, power steering fluid, and windshield wiper fluid must be checked before every trip this winter. 
Use Your Engine Block Heater 
A warm block is easier to start than a cold one.  
At zero degrees Fahrenheit and below, a cold engine will struggle to get going. At these frigid temperatures, the oil in the engine turns gooey and your engine will have to work harder and burn more fuel to start. 
Plug in the block heater when the weather reaches 5 degrees.  
Check Your Tire Pressure and Treads 
During winter you need to keep an eye on your tire pressure and treads.  
Cold temperatures can slowly sap tire pressure and decrease tread life and fuel economy. Low pressure can also threaten your safety.  
Worn treads can cause slippery conditions that can lead to accidents. Regularly inflate your tires and get replacements if you notice your tires will not hold pressure.  
Good winter tires will prevent breakdowns and accidents. Fall is the perfect time to upfit your truck if you are worried about tire pressure or other similar issues. It could save your life.  
Be Aware of Cold Soaks 
Cold soaks happen when the fluids and metals in the engine block are dropped due to the frigid temperatures.  
To prevent cold soaks, make sure you keep your engine running and never let it sit inactive for more than 24 hours.  
Check Your Front, Back, and Sidelights 
During the winter, the weather can be dark, dreary, and hazardous. Clear, bright, working headlights can be the difference between life and death.  
Test to make sure that all your lights are working properly. Snowstorms, icy roads, and foggy conditions are all regular occurrences of winter. Be sure that your lights are up to the task.  
Check Your Battery 
Cold engines require much more battery power to start than warm engines. Batteries drain quickly in cold weather and can be a challenge to charge.  
When you do your maintenance checklist, make sure your battery is not past its expiration date and can hold a charge. Also be sure to clean connections before winter, and check for corrosion weekly during winter.  
Best Truck Maintenance in Cincinnati at Beamers Piggyback 
Winter is hard on trucks.  
The cold weather can create new issues or make existing issues worse. Make sure you engage in preventative maintenance to ensure that your truck stays in top condition all winter long.  
For all your truck repair, truck maintenance, truck up fitting, bed manufacturing, and truck bed build needs, go to the best in Cincinnati at Beamers Piggyback.  
At Beamers Piggyback, we have the experience and knowledge to make sure your truck is in top condition and is ready for winter.  
If your truck needs maintenance or fitting before the coldest part of winter, reach out to Beamers Piggyback today! 
Happy with the Beamers PB difference? Leave us a review on Google here!